Home > Two World's Fairs

JackGordon.org -- "Mr. Seattle"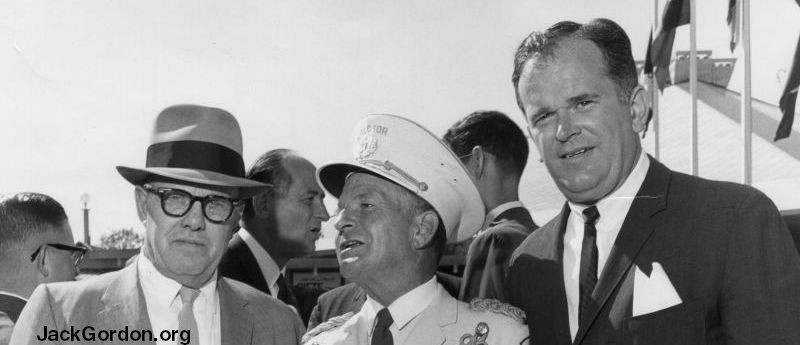 Photo Courtesy of Greater Seattle News Bureau
AFL-CIO President George Meany with World's Fair Band leader Jackie Souders and Plaza of the States Coordinator Jack Gordon at the Plaza's Salute to Labor on September 3, 1962.
Washington State's two World's Fairs -- Seattle and Spokane


An aerial view of Lower Queen Anne from 1957
Here's Century 21 like you've never seen it before
From 1960, Jack's idea for a Heliport atop the "Seattle Tower"
The World's Fair on the front of the Seattle Phone Book
Day by Day Calendars of Century 21 [October]
1960's Coliseum Groundbreaking
LIFE Magazine advertisements: Nov. 24, 1961, May 20, 1962 issue
What's Happening? Day by Day at the Plaza of the States
Jack Gordon Honor Day at Seattle's Century 21 and here's the column by Robert Heilman about the day
From "A" to "Z" with Mister G.
Jack Gordon named "Arkansas Traveler" in 1962
Closing report for the Plaza of the States
Keep the Plaza, Gordon urges after the Fair
Plaza and Fair Songstress Paula Bane dies in 1994
State Honor Days
See "Day to Day at the Plaza" or the Monthly Calendars above
Expo 74 in Spokane
"State Days at Expo Take Lots of Work" from the Spokesman-Review
You are at JackGordon.org,
a salute to John F "Jack" Gordon, Mr. Seattle

Copyright © 2002-2016 John R. Gordon