Home > Century 21 World's Fair > Plaza of the States schedule > Plaza of the States Dedication (April 15)
Dedication of the Plaza of the States
and the Washington State Coliseum
April 15, 1962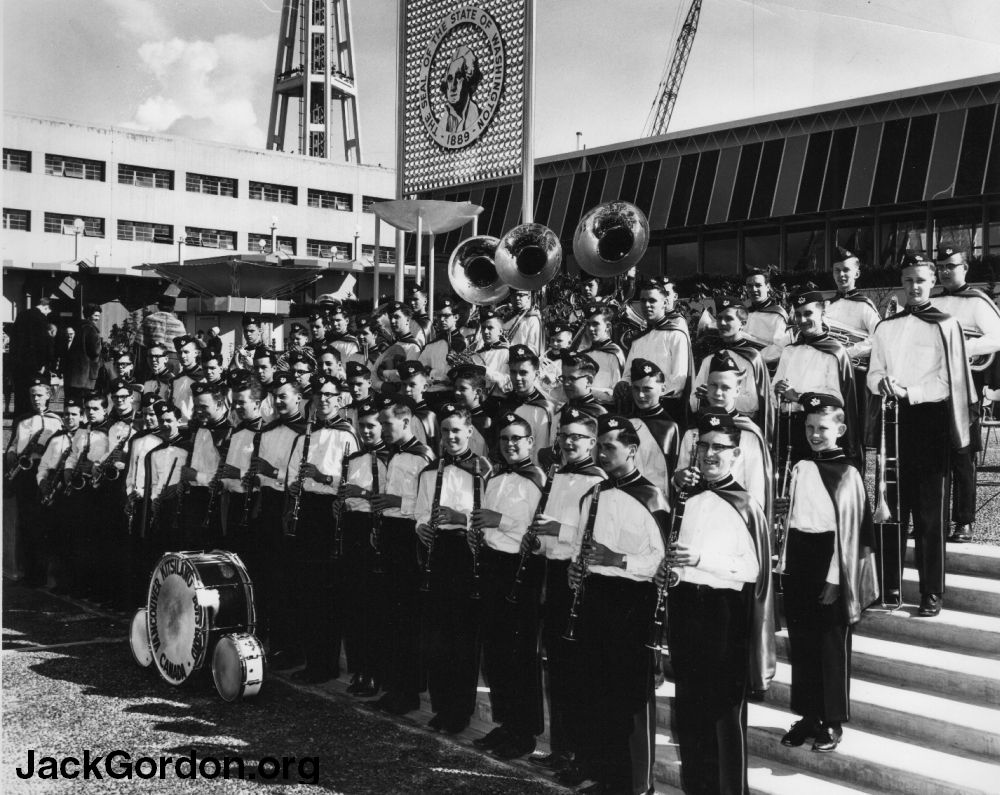 Exclusive photo from Greater Seattle News Bureau.
Photo by Forde Photographers
The Vancouver (B.C.) Kitsilano Boys Band entertained legislators and other guests at the Dedication of the Plaza of the States on April 15, 1962.
The printed information card that was mounted at the base of each state's flag pole.
While Washington Day was celebrated on April 15 (almost a week before the World's Fair opened), the Century 21 Post Office saluted the home state on May 7.
News from the Seattle World's Fair
PLAZA OF THE STATES DEDICATION SCHEDULED
March 23, 1962
Governor Rosellini announced today that a special program will be held April 15 to dedicate the plaza of the States and Coliseum at the Seattle World's Fair.
Guests will include state officials, legislators, supreme court judges and members of the World's Fair Commission.
"It will be an official preview, as well as a dedication," Governor Rosellini said. "We are especially interested in having the legislators tour the grounds. Many of them took an active part in the plans when the Fair was only a dream in the State Legislature."
Brunch will be served at noon in the Century 21 Club. The Plaza dedication will begin at 1:30 p.m., and the guests will see see a preview of the honor day ceremonies to be held for each state.
Lt. Gov. John Cherberg will introduce members of the Senate. Speaker John 0'Brien will introduce Members of the House of Representatives.
Speakers invited will include William S. Street, chairman of the board of directors for the Century 21 Corporation, and Edward E. Carlson, chairman of the World's Fair Commission.
Boy Scouts from the Seattle Council will raise the flags of the 50 states. Clergy of the Catholic, Jewish, and Protestant faiths also will take part.
Members of the World's Fair Band under Jackie Souders and the All-City High School Band will will be invited to participate.
After the Plaza ceremony the group will move at about 2:30 p.m. to the Coliseum for a dedication there. Representative Ray Olsen of Seattle is program chairman.
About 400 guests, plus members of the press, will be invited to attend. The ceremonies will be closed to the general public because of the intense activity on the fairgrounds to get ready for opening day.
After the Fair opens programs will be presented in the Plaza of the States as special tributes to each of the 50 states. The flags of the states along with historical plaques will be displayed.
You can find contemporary News Coverage of the event here.
You are at JackGordon.org,
a salute to John F "Jack" Gordon, Mr. Seattle

Copyright © 2002-2022 John R. Gordon