Home > Seattle > Fr. Augustine Darold Hartman

JackGordon.org
Fr. Augustine Darold Hartman, O.P.
March 5, 1929 - December 20, 2020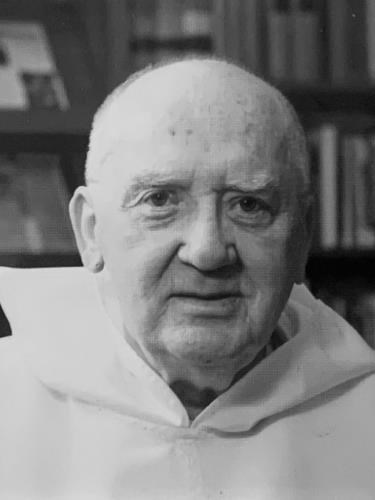 In the former logging town of Vernonia, Oregon, on the day Herbert Hoover was inaugurated as president of the United States, the fifth son of Frank and Freida (Chamberlain) Hartman was born. A suggestion of naming the child Herbert Hoover Hartman was mercifully vetoed by his mother, who named him Darold Herbert. Ravages of the Great Depression moved the Hartmans to Spanaway, Washington, the poorest of Tacoma's suburbs, where his earliest memories were of hunger and the excitement generated by deliveries of canned bully beef, spam, corn meal, powdered eggs and powdered milk that turned chalky when mixed with water. When Darold was eight, the family relocated three miles east to Clover Creek, and, two years later, to Kapowsin near the foot of Mt. Rainier, where he completed elementary and high school. The family grew until there were seven boys and two girls - the first eight born within eleven years of one another.
During WWII the four oldest boys joined the Navy in the cause of freedom, leaving Darold to help tend the farm. The memory of hardship in the midst of inspiring physical beauty and days bursting with manual labor, became the grist of innumerable stories that Fr. Gus enjoyed telling, and were the foundation of his love for American folk music and spirituals that capture the travails and hopes of the poor.
After high school, Darold worked as a nursing attendant at the V.A. Hospital in American Lake, WA, where he helped care for the war's emotionally traumatized veterans. In 1948 he followed his elder brothers into the Navy, where for nine years he served as a hospital corpsman, specializing as an operating room technician, then a clinical lab and blood bank technician. There, his desire to bring healing to the wounded in body and spirit was born.
After two years of college at St. Mary's, Moraga, CA, he entered the Dominican novitiate, where he completed his Bachelor of Philosophy and Master of Divinity degrees. Blessed Sacrament Parish in Seattle, WA, was his first assignment, close to his childhood home. He served as an associate pastor there, then at Holy Family Cathedral in Anchorage, AK. In both places, his attentiveness to and empathy for the down and out was noticed by his brothers. The dining room table in Anchorage was replaced by a larger one to accommodate the poor that Gus invited to share the friars' meals.
In 1979 he began ministry as a priest chaplain in Catholic hospitals in Nevada, California, Idaho and Alaska, and, finally, in Seattle. He trained in group dynamics and earned certification as a chaplain. The energy and dedication he gave to patients is summed up in a letter he wrote forty years ago. "A chaplain, representing Christ and His Church, has to be generous, if necessary, in the extreme.in time of great need I believe there should be no impediments to our availability and willingness to be of service."
Fr. Gus returned to Oakland in 2013 as his mobility deteriorated. He passed away quietly in hospice care on Sunday morning, December 20, 2020. After a funeral Mass at St. Albert Priory, he was buried at St. Dominic's cemetery in Benicia, CA, on December 23. He is survived by Jerry his brother and his sisters-in-law Gail Hartman and Doris Hartman, nieces, nephews, as well as his brothers in the province of the Holy Name of Jesus. To honor the memory of Fr. Augustine, gifts may be made securely online in support of the education of Dominican brothers and priests.
---
[Editor's note: While going my parents' papers, I found a copy of this sermon, written by Fr. Hartman, delivered on January , 1995, the fifth anniversary of his mother's death.]
January 1995 - RIP Frieda Pauline Hartman Kolback.
5th Anniversary. Born to Eternal Life, Tacoma, Washington.
By Rev. Augustine Darold Hartman. O.P.,
Son of Frieda and Frank John Hartman.
1929 was my year of birth. I was born in Vernonia. Oregon. I was born at home. (A La' Victor Borge): My mother took one look at me and was taken to the hospital.
In 1955 I was a sailor in Uncle Sam's navy. Standing in the darkness of the night watch at sea disposed me to some reflective times. Somewhere, being a priest was suggested. At first, this invitation to be a priest was so personal and private I was very quiet about it.
Secretly I applied to the Franciscan Order. Becoming a Son of St. Francis of Assisi appealed to my romantic side. But the application came back to me. "Too poorly preparedy it said. It was a jolt to be turned down. Thinking back, however, I was not defeated. My trust in God was stronger than that. In my innocence I said, "God will take me where He wants me to go."
I tried however to conceal the longings of my heart. My family could see something unusual was stewing in me. When it came out, my sister Mary commented "A priest! Darold? Good God, the church cannot be that hard up for priests." I have to admit I was pretty hard on Mary in our childhood. I was a bully for a while (It is shameful to admit it even at this late date of 1995. I am certain I'm forgiven, however).
My brother Don shouted to Mom. "Leave me out of this! Darold a priest? I don't want to get involved!" We were all bewildered. However. I never looked back when I put my hands on the plow.
Our village is Spanaway. about 12 miles south of Tacoma. At Spanaway our Pastor was Fr. William Greier and our parish is Our Lady Queen of Heaven. We were all certain that Fr. Greier was a saint. But he had a very human weakness: cigars. When walking, thinking, praying the Divine Office Fr. Greier was puffing on a big black cigar. He could even talk with that cigar hanging on to his lips. It bounced up and down with each of his spoken words. We all admired this feat, keeping our eyes on his lips and the cigar.
He, Fr. Greier, was a very humble priest. He was also cjuite secure in his calling as a spokesman for God. He was helped in this by being a man of scholarship and prayer. Add to this: he was a darn good pastor, with carefully tuned and developed pastoral instincts and gifts.
Fr. Greier was a wonderful role model for many of us. He became known as "A priest's priest." He had the optimistic ability to draw some good out of almost anyone and anything. Sometimes that takes considerable imagination.
But he had no trouble seeing God's hand in my rejection by the Franciscans. I drew him out about my future. Fr. Greier. in a faint German accent says. "Ordinarily I don't like giving adwices. but as for myself, he reasoned. "I'm a Third Order Dominican, a Tertiary." He. Fr. Greier. faithfully held Third Order meetings in his parish for years and years and they were wonderful.
Father Greier went on to reason. "Darold, the Dominican Order has a lot going for it. Moreover, it has evolved quite successfully since the Middle Ages. Even in some stormy times the Dominican Order survived, even prospered. And Darold, I must say, you have the temperament of a Dominican". (I was not curious to know what he meant by that "Dominican Temperament".)
Father Greier went on to say, "The Dominican Provincial here in the West is Fr. Fulton. He is my friend. Write to him. He has a wonderful quality of seeing something promising in almost, anyone".
That was music to my ears. I wrote that letter to the Provincial, Fr. Fulton. He said "Darold, if that's what you want, come on. Try us and we'll try you". So, officially and technically becoming a Dominican was a snap. It was surprisingly easy. Living it out, however — to put it mildly — is a different matter.
Vows, then ordination to the priesthood in 1966. I quickly learned that a priest's life is charged with life and interest. It is like a spark when given oxygen---blazes up. Most people in charity would say, "Your presence makes a positive and constructive difference in our world". People do something like that. I've heard it.
In my first priestly assignment the fire blazed up. It was at the Blessed Sacrament Church in Seattle. Father Joseph Fulton, who took me into the Order, was pastor. It was an exciting time with many progressive changes.
It was Fr. Fulton's steady, kind and true hand that helped shape and mold a magnificent parish community at Blessed Sacrament. In it. to this day (1995) Blessed Sacrament Community shines like a polished and splendid diamond. I was honored to be a part of it. with Fr. Joseph Fulton leading the way. We were on solid ground — secure — and the people trusted us in most cases. During this time (1968) the "Feed-In" (Sunday Dinner) started. In here, also, the 5:45 Sunday Student Mass began. These two parish events were, and still are. models for our city of Seattle. This was objective proof that God is very much alive in His church. And mediocrity and lethargy are distant memories.
Naturally we humans enjoy approval and acceptance. And, we even collect some degrees and honors along the way. Compare these stimulating and exciting academic honors, however, with the modest and quiet ways of a Dominican Friar. You can hardly imagine the two together.
The contemplative life requires a quiet lifestyle. Surely you must have a break in the afternoon for tea. Then, back to the tomes. I discover that the more I study, learn and experience, however, the more aware I am of my ignorance and limitations.
When I am down and tired I get courage from a video of the life and speeches of Sir Winston Churchill. His life was sprinkled with paradoxes and surprising twists of fate. Churchill came along to the top of the British government when it badly needed him. "His mind and ideas were like lightening." some said of Churchill's brilliance. "Brandy consumption, also brings me around." he said.
In his youth Churchill was put in Harrow, a British boarding school for boys. He didn't like Harrow, so was a poor and naughty student. Winston was put back into the third frame 3 years in a row. "But from these humiliating failures." Churchill said, "I mastered the structure and power of the English sentence".
So, in his case, flunking over and over was a blessing. Of these twists of fate in Churchill's life we are beneficiaries to this day fifty years later.
With his great speeches, courage, tenacity and leadership, Sir Winston Churchill saved the world from Hitler's Nazi domination, "which would have brought on a New Dark Age". "One shudders to think of our danger and peril even now, years after the war", Churchill reported.
Churchill, as Britain's Prime Minister, was voted out of office in 1945. This political defeat (although his personal popularity was very high) happened even before there was Allied victory in Europe.
It was a terrible blow to Churchill. He was shocked and hurt. He pouted for a while and shed many tears. This proves that in a Democratic society the voter has a decisive say, and no politician is 100% secure. Even in the church, men and women of the cloth: BEWARE!!
But Churchill sprang back in this way: He set to work writing the history of World War II. For this seven volume masterpiece, even as an old man, Churchill was awarded the Nobel Prize for Literature. Its worldwide sales were tremendous.
Churchill's History of World War II flows and makes exciting reading too. For me it is a marvelous experience to somehow see a great mind at work. The spark of genius comes from "God knows where". And it helps to humbly and honestly give God some credit occasionally. There is an old saying, "Pray as if all depends on God; work as it all depends on you. In this way God's will gets done on earth."
I am proud to say that Sir Winston Churchill is one of my heros. On a video I saw where Winston returned to Harrow, his Alma Mater. He told the young students some things that brought peals of laughter — things that they and we know. It is refreshing to see Churchill admit them and make his vulnerability an asset.
Churchill said to the Harrow students, "I have had a long and not uneventful career. Above all else, there is one thing which astonishes and amazes me: Which is. 1 have collected so many academic honors. In fact," Sir Winston says. "I have many more degrees than examinations that I passed in school." Loud and protracted laughter brought the house down. Winston had hated anything to do with the school as a youth. It bored him.
A unique and rare honor was given to Sir Winston Churchill when he had reached the evening of life. President of the United States, John Kennedy, made Britain's Prime Minister Churchill an honorary citizen of the United States. On the occasion of the award. Kennedy said to Churchill, "You mobilized the English language and sent it to war". It (Churchill's stirring oratorical language and ideas), saved the human race from tyranny and destruction.
Our human and spoken words can be a powerful force, even bringing victory out of defeat. St. Paul says that Faith in God is communicated by the human spoken and written word: Faith in Jesus comes from hearing the word about Jesus. I give my mother credit for my Faith: she told me of Jesus and taught me to pray (the "Our Father" and the "Hail Mary"). It is hard to improve on that.
In our Dominican Order the word is our specialty. Through the word God can reach the immortal souls of us mortal human beings. The life of anyone can be changed and they can walk the high road of peace and goodness. Probably most of us have a moment in which the word reached deep into our hearts and profoundly stirred us. It is very likely because God is good. With Him nothing is impossible. Saying it in a positive way, "with God all things are possible." He wants all of us to succeed and has worked very hard to make it so. Amen.
Rev. Augustine Darold Hartman,. OP
Seattle, Washington
Providence Hospital