JackGordon.org
The Walsh Family in the 1940s
(I'm dating these photos by the apparent age of Richard (Please don't call me Dickie), the youngest of Edward and Bettie's children. I seem to find it easier to pick/guess the age of a child than a teenager or adult. )
1941 (left to right) Are Edward, Thecla (Bettie), William, Louise, Jack, Frances, Roberta, Jim, Irene, Bettie, and Richard.
Now we jump to 1947 (Dick looks about 9) and (again, left to right) are Edward, Louise, Will(iam), Roberta, Jack, Grandma Bettie with Dick in front, Frances, Jim, Bettie, and Irene.
Jack Gordon
Gathered together at Easter, 1949, in the Gordon's 1416 Bigelow N apartment are what looks like the entire Walsh family to say "farewell" to Gordon Smith and his wife, Louise (Walsh), and their two daughters. Gordon Smith, an officer in the Navy, had just been posted to the Hawaiian Islands.
In the back row are (Left to Right): Robert Van Hollebeke and Irene, Jack (holding baby Jacqueline) and Dortha Walsh, Winnie Walsh (wife of William, sitting in the front row) Bette Walsh, Ed Rowe and Frances Rowe holding Christine, and Roberta Gordon.
Seated are Carol Smith, Gordon Smith, Elaine Smith, Louise Smith, Grandma and Grandpa Walsh, Richard Walsh (sitting on floor), Will Walsh with son, Roger, on the edge of the couch and daughter, Karen, on the floor.
Jim Walsh appears to have missed this party. The photographer was Jack Gordon.
A big thank you to Kathleen Kent for adding a couple of names and straightening me out on others.
OK, bear with me on identification of this one that is very probably 1955 or maybe 1956, since there is a partial sighting of John.
Back Row starts with Ed Rowe holding Terry, Dortha Walsh holding a child, Fran, Jim, Grandma Walsh, Louise, top part of William's head, Irene, behind her is Roberta holding John, and behind them Karen Walsh, then Winnie, Dick, Robert Walsh, and finally Grandpa Walsh.
The frontish row looks like it starts with a deeply shadowed young girl then shadowy Carol Smith, then three little girls, then Mike Rowe, a boy behind him, another boy with his head on an angle, Kathleen VanHollebeke Kent, an older girl behind her, a blond girl, a boy, and Bettie.
Who the youngster apparently sans pants and shirt with his back to the camera is, I haven't a clue.
If you're curious about when they were born, here's the list as composed by Betty Walsh, sometime between Richard's birth in 1938 and the fire in the late 1940's.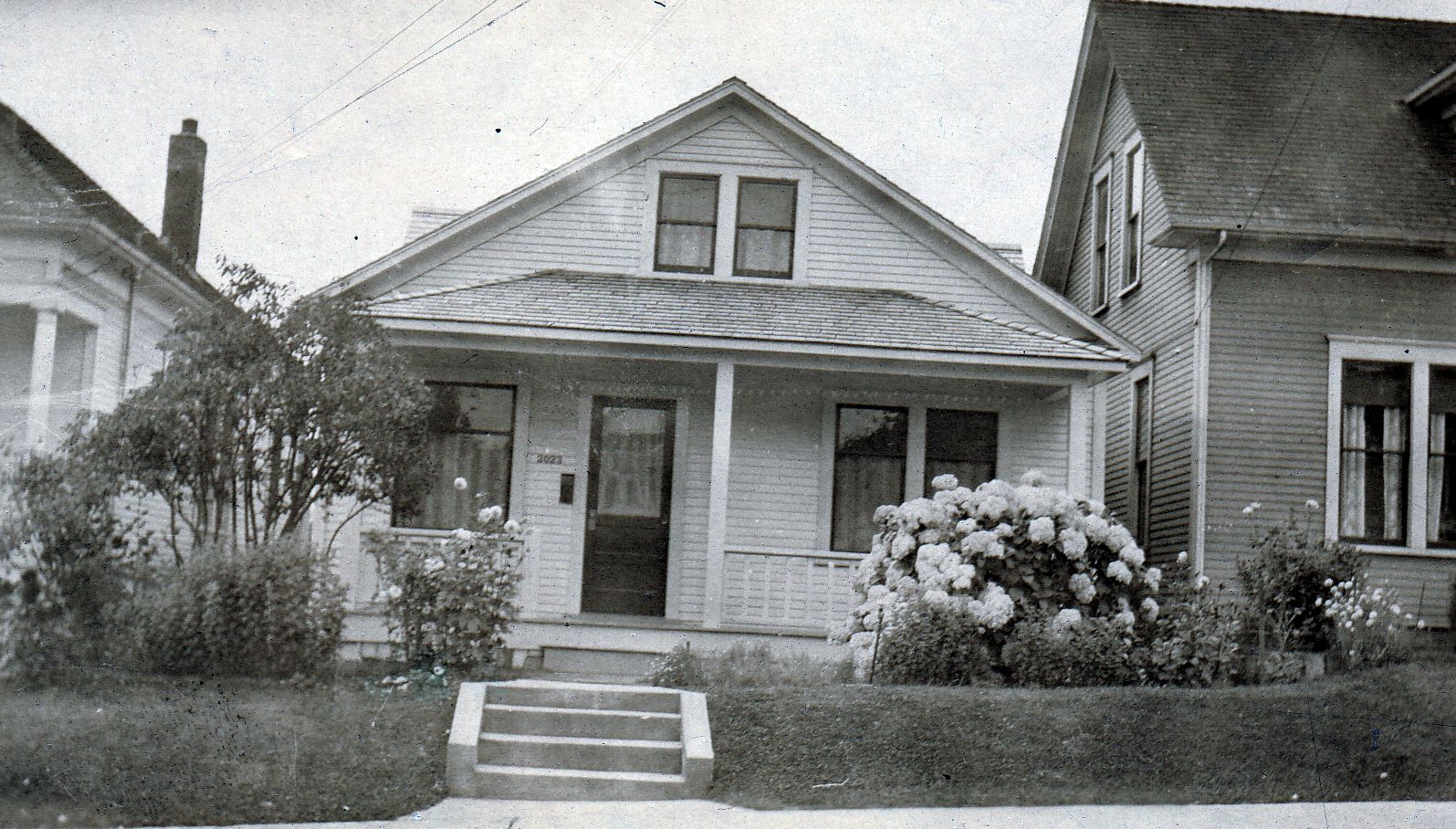 You are at JackGordon.org,
a salute to John F "Jack" Gordon, Mr. Seattle

Copyright © 2002-2022 John R. Gordon