JackGordon.org
Seattle's Welcome Lane
As Chairman of the Korean War Veterans Welcome Committee, Jack Gordon was more than just the emcee for the welcoming of hundreds of troop-ships with 500,000 U.S. veterans from the Korean War.
Barclay Girls danced at Pier 36 on Seattle's waterfront as part of the greeting Gordon headed for soldiers returning from Korea.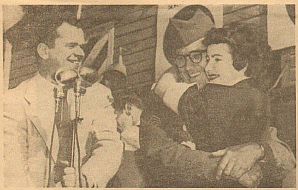 A typically happy Jack Gordon adjusts the microphone while Kay Stevens, singer, welcomes the 100,000th returning Korean War veteran.
Also in this section are:
From the November 17, 1951, issue of Collier's, "I See Them Kiss and Cry," an M.P.'s story of Welcome Lane
Welcome Lane honored by Seattle Chamber with its "Blue Ox Award" for 1951.
Gordon's 1953 Report to President Eisenhower,
(Coming soon) Photos of Mrs. Gudrun Baker's "Bank Girls" welcoming the soldiers home.
Santa Jack welcomes troops to Seattle
For the one year anniversary of Seattle's Welcome Lane, "Welcome, Korea Vets", Seattle Times, May 4, 1952
Pageant Magazine's coverage of Gordon's Welcome Lane.
Newspaper photos from December, 1952: Kay Stevens returns along with the 137th Troop ship to arrive in Seattle.
1969 and welcoming home the 9th Infantry from Vietnam
You are at JackGordon.org,
a salute to John F "Jack" Gordon, Mr. Seattle

Copyright © 2002-2106 John R. Gordon